School of Arts and Humanities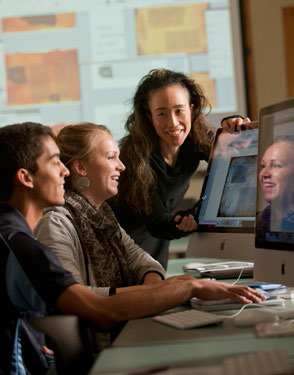 Degree Programs: Undergraduate degrees are offered in Visual Arts (ARTV), Literature (LITT), Philosophy and Religion (PHIL), Languages and Culture Studies (LCST), Historical Studies (HIST), Communication Studies (COMM), and the Performing Arts with concentrations in Dance (DANC), Music (MUSC), and Theatre (THTR). At the graduate level, a Master of Arts in American Studies (MAAS) is offered.
Dean's Notes: Faculty: Wendel A. White, Distinguished Professor of Art, was awarded a Guggenheim Fellowship for his photographic documentation of black communities in small towns. In 2012 and 2013, Professor of Communications Christine Farina screened her award-winning documentary Gamers at many film festivals, including Cannes. In 2013, Robert Nichols, Professor of History, received a Fulbright Specialist Grant for training and curriculum development workshops with faculty and graduate students at Quaid-i-Azam University in Islamabad, Pakistan. In 2015, Lisa Rosner, Distinguished Professor of History, received a second NEH Grant to further develop "The Pox Hunter," a digital role-playing game that explores the history of smallpox vaccine development. Venues: In 2012, Stockton opened the new, two-story Stockton Art Gallery to provide students, staff, faculty area schools, artists, and the community-at-large with an opportunity to experience contemporary and historical art exhibitions and related programming. In 2014, Stockton completed renovations on a state-of-the art HD TV studio to provide production students with experience crucial to their career development. In 2014, with support from the local community, Stockton honored the Rev. Dr. Demetrios J. Constantelos, Charles Cooper Townsend Sr. Distinguished Professor Emeritus of History and Religious Studies, by establishing the Constantelos Hellenic Collection and Reading Room in the Bjork Library. In 2016, the Stockton Performing Arts Center celebrates its 40th anniversary and the university acquired the Noyes Museum, which moved from its Oceanville, N.J. location to Kramer Hall in Hammonton. This location supplements gallery and museum store space in the Arts Garage in Atlantic City.
Partnerships: In 2010, Stockton began a collaboration with the Noyes Museum of Art, which became a part of Stockton in 2016, fostering the development and appreciation of the arts in southern New Jersey. In 2011, collaborating with St. Michael's Church of Atlantic City, Stockton began operating the historic Dante Hall Theater of the Performing Arts, offering a wide range of entertainment and community events. In 2012, Dante Hall became the home of the Bay Atlantic Symphony, with conductor Jed Gaylin joining the Stockton Music program as artist-in-residence. In 2012, Stockton established a partnership with the New Jersey State Council for the Arts and PCK Media to produce the Emmy Award-winning television program, State of the Arts. In 2013, Stockton, in collaboration with the Noyes and the Casino Reinvestment Development Authority, opened the Arts Garage in Atlantic City. The venue is home to the African-American Heritage Museum of Southern New Jersey, gallery, retail and studio space. In Summer 2015, Stockton faculty, staff, students, and alumni partnered with the European University Cyprus to plan and host an international multidisciplinary conference, "Lines Between: Culture and Empire in the Eastern Mediterranean," in Nicosia, Cyprus. In Summer 2015 and 2016, Stockton partnered with the Atlantic City Police Athletic League to host two weeks of Summer Arts Workshops for the children of Atlantic City. In 2015 and 2016, the Stockton Communications Studies program developed partnerships with Bert Lopez to produce Latino Motion, a weekly talk show on Latino issues in South Jersey; with The Press of Atlantic City to produce "30", a weekly South Jersey-centered newsmagazine; and with the Ocean City Nor'easters soccer club to announce and videotape its matches. All three partnerships offer production experience and professional broadcast credit for advanced students; the COMM program has also established a new relationship with Comcast to produce Newsmakers in the recently renovated HD TV studio, a project that will also ultimately involve student interns.
Centers: The Digital Humanities at Stockton (DH@Stockton) is designed to facilitate participation in the emerging field of digital humanities by increasing awareness and visibility of how Stockton community members are currently utilizing digital media, as well as encouraging and assisting the development of innovative digital materials. The center hosted a THATCamp "unconference" on digital pedagogy in 2014 in Atlantic City. The Pappas Center for Hellenic Studies (PCHS) promotes and assists in the study and teaching of Hellenism through the many fields that define Greek civilization and culture. PCHS includes the Classical Humanities Society and the Examined Life program. The Stockton Text Center, established in 2005, enables undergraduate students to work with primary, and mainly unpublished, materials in order to give them new insights into the nature and practice of scholarship. The South Jersey Culture and History Center (SJCHC) brings together resources to further the study of the region through publications, exhibits and symposia, including an exhibit on Pinelands Folklore/Folk Life at the Noyes Museum in Spring 2015.

STOCKTON UNIVERSITY
School of Arts and Humanities, Dean Lisa Honaker, K-150
101 Vera King Farris Drive
Galloway, NJ 08205-9441
609.652.4505 | 609.652.4550 (fax)
Website: stockton.edu/arhu • Email: arhu@stockton.edu