School of Health Sciences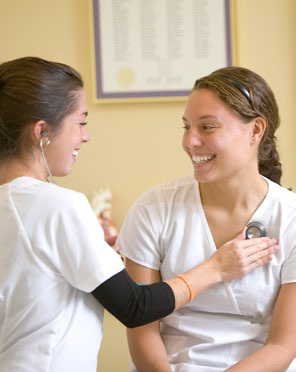 Degree Programs: Undergraduate degrees are offered in Exercise Science, Health Science (BSHS), Nursing and Public Health. The BSHS program offers the following tracks: Generalist, Pre-Communication Disorders, Pre-Physical Therapy, Pre-Occupational Therapy and a dual-degree program with Philadelphia University that leads to a Master of Science in Physician Assistant Studies. The Nursing program offers a four-year prelicensure program, an RN to Bachelor of Science in Nursing (BSN) program, and a new accelerated BSN program called Transcel. At the graduate level, Stockton offers a Doctor of Physical Therapy (DPT), Post-Professional Doctor of Physical Therapy, Master of Science in Nursing (MSN), Master of Science in Occupational Therapy (MSOT) and Master of Science in Communication Disorders (MSCD).
Dean's Notes: The School of Health Sciences (SHS) is located on the main campus in the John F. Scarpa Health Sciences Center. This fall the school enrolled its first cohort of students in the Bachelor of Science in Exercise Science program, and also launched the new Nursing Transcel program at the Manahawkin Instructional Site. This new five-semester-long program allows students to earn a second bachelor's degree in Nursing. Beginning in fall 2017, the program will admit transfer students who meet the prerequisite requirements. This new program will help the school address the severe shortage of qualified nurses in the region.
The school continues to collaborate with the Mainland Division of AtlantiCare Regional Medical Center and the Bacharach Institute for
Rehabilitation, both located on campus, for laboratory sessions where students can practice patient-care skills and interact with trained
clinicians. The Speech and Hearing Clinic, located in the Parkway building a short distance from the main campus, is a training facility for MSCD students which offers speech pathology and audiology services to children and adults in the surrounding community for reduced fees.
Collectively, SHS programs offer clinical experiences with education and health professionals throughout the region, including multi-facility health care organizations, early intervention agencies, school districts and private clinics. This year the SHS continued our commitment to interprofessional education with a number of activities, including a Baby Lab day for students from Communication Disorders, Nursing, and Occupational and Physical Therapy.
The BSHS program is the largest undergraduate major on campus, with more than 1,100 students enrolled. The BSHS faculty continues to offer students a range of innovative experiences and a cutting-edge curriculum grounded in interprofessional education.
Faculty were awarded external grants to improve the health outcomes for individuals in our surrounding communities. An interprofessional group of faculty led students in Occupational Therapy on a learning abroad trip to Bogota, Colombia and students from Universidad del Rosario in Bogota were hosted by the school for a study abroad experience in the fall.
Faculty continue to have work published in peer-reviewed publications and made over 50 presentations nationally and internationally, many of which were co-authored with SHS students. Scholarly work in teaching and learning explored a range of topics, including cultural competence in health care, wellness of individuals with developmental disabilities, teleconsultation with a developing country and assessment of essential learning outcomes.
STOCKTON UNIVERSITY
School of Health Sciences, Dean Margaret Slusser
West Quad Building Room 110
101 Vera King Farris Drive
Galloway, NJ 08205-9441
609.652.4501 • 609.652.4858 (fax)
Website: stockton.edu/hlth • E-mail: hlth@stockton.edu