School of Education

Degree Programs: The Teacher Education Program offers initial teacher certification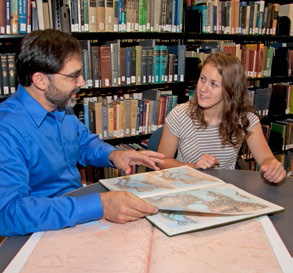 in tandem with a liberal arts bachelor's degree or as a post-bachelor's degree. At the graduate level, Stockton offers a Master of Arts in Education (MAED), a Master of Arts in Instructional Technology (MAIT) and a Doctor of Education in Organizational Leadership (LEAD). The MAED program offers several degree and endorsement options for certified teachers, including Language Arts Literacy, Mathematics, ESL, Bilingual/Bicultural, Teacher of Students with Disabilities, Reading Specialist, Principal Certification and Learning Disabilities Teacher Consultant. The MAIT program offers a Training and Development Certificate. The MAED and MAIT programs jointly offer the Supervisor Endorsement for licensed school personnel holding master's degrees. The LEAD program is offered in an executive weekend format, convening leaders from education, municipalities, and the business, health care, faith-based and non-profit sectors.
Stockton offers "direct entry" into the master's programs in the School of Education to recent Stockton graduates. Currently, the graduate programs provide hybrid, online and off-campus courses at a variety of locations in southern New Jersey with options for completely online endorsements in MAED and degrees in MAIT. Flat-rate tuition is available for completely online programs as well as tuition incentives for cohorts of graduate students seeking customized design and scheduling at additional locations.
The Teacher Education Program provides teaching certifications in kindergarten through grade 12, including a variety of subject areas
at the middle school and secondary school levels. This program provides a traditional pathway to teacher certification for individuals
holding undergraduate degrees in any field. The School of Education also hosts a New Jersey Department of Education Alternate
Route to Certification program for candidates who have already earned a bachelor's degree and wish to pursue a non-credit pathway to
licensure. See www.stockton.edu/educ for more information about our programs.
Dean's Notes: Central to Stockton's Teacher Education Programs are two intensive semesters of fieldwork prior to a final semester of
student teaching. As a result, Stockton's education students enter their student teaching assignments well prepared as they embark on
their teaching careers. Stockton's programs are nationally accredited by the Teacher Education Accreditation Council (TEAC), part of
the Council for the Accreditation of Educator Preparation (CAEP).
The School of Education's Southern Regional Institute and Educational Technology Training Center(SRI & ETTC) is one of the
nation's first and most comprehensive organizations for training teachers on the integration of technology in the classroom. The SRI
programs also include Achieve NJ training on curriculum, instruction, SGOs and PARCC testing. Virtually every public school district
and many private school districts in southern New Jersey are members of the SRI & ETTC Consortium. Visit ettc.net for a full
listing of all workshops, conferences and grant projects currently underway.
Stockton's School of Education is home to several prestigious summer institutes, including the New Jersey Amistad Commission and
the New Jersey Education Association's Technology Integration Institute: TechStock. It is also home to the Stockton Center for
Economic & Financial Literacy (SCEFL), with programming and projects to promote economic and financial literacy among students
and teachers in N.J. schools. (Visit www.stockton.edu/SCEFL).
STOCKTON UNIVERSITY
School of Education, Dean Claudine Keenan, J-201
101 Vera King Farris Drive, Galloway, NJ 08205-9441
609.652.4688 • 609.626.5528 (fax)
Website: stockton.edu/educ • E-mail: SOE@stockton.edu
facebook.com/stocktonmait