School of Natural Sciences and Mathematics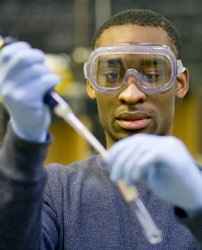 Degree Programs: Undergraduate degrees are offered in Biochemistry and Molecular Biology (BCMB),
Biology (BIOL), Chemistry (CHEM), Environmental Science (ENVL), Geology (GEOL), Marine Science (MARS), Mathematics (MATH), Physics (PHYS), and Sustainability (SUST). Students may also choose among minors in Biology, Chemistry, Environmental Science, Marine Science, Mathematics and Physics as well as pursue teaching certification in concert with the School of Education. In addition, the School of Natural Sciences and Mathematics has an array of articulations with other colleges and universities to provide students with dual degree opportunities in Engineering, Pharmacy, Medical Technology, Medicine, Dentistry, Optometry and Podiatric Medicine. Certificate programs are offered in Energy Studies and Geographic Information Systems. At the graduate level, a Professional Science Master's in Environmental Science (PSM) and a Master of Science in Computational Science (MSCP) are offered.
All undergraduate and graduate students are encouraged to participate in faculty-mentored research projects both on and off campus. Field trips, many taking advantage of the university's 1,600 acres within the Pinelands National Preserve or at the university's Marine Field Station at Nacote Creek, or at the campus Arboretum and Sustainability farm, are an integral part of many Environmental Science, Sustainability, Geology, Biology and Marine Science courses. In
addition, students have the opportunity to participate in extended summer programs in national parks such as Yellowstone and in other parts of the western United States to broaden their learning experience. Students have opportunities to study abroad for a summer, a semester, a year or in intensive, shorter faculty-led experiences.
Dean's Notes: The School of Natural Sciences and Mathematics values real world experience and provides opportunities for students to
engage in undergraduate research with active professors and to engage professionals in the field through internship opportunities. The school also has cultivated partnerships with local school districts and community-based organizations, and is involved in projects and activities that will increase the number of Science, Technology, Engineering and Mathematics (STEM) graduates. These projects and activities expose students to STEM disciplines and careers and encourage them to consider STEM majors in college. The Forsythe National Wildlife Refuge, located minutes from campus, the Jacques Cousteau National Estuarine Research Reserve, in which Stockton's Field Station is located, and the FAA's William J. Hughes Technical Center all serve as resources to Stockton's students and faculty. Stockton faculty and their students participate in sponsored research projects funded by the National Science Foundation (NSF), the National Institutes of Health (NIH), the National Oceanic and Atmospheric Administration (NOAA), the Federal Aviation Administration (FAA) and a variety of other federal state and local partners.
The university opened its state-of the-art, 66,000-square-foot, three-story Unified Science Center in September 2013. The building houses the teaching and research laboratories primarily for the Biology and Chemistry programs as well as related areas of Marine and Environmental Science. The facility also contains high-speed computer facilities, six large classrooms as well as faculty and administrative offices. In addition, the building is equipped with state-of-the-art instrumentation for analytical and organic chemistry, biochemistry and molecular biology including among many others, a 400 Mhz NMR, GC/MS, HPLC, Q-PCR, conventional and next-generation DNA sequencing platforms and confocal microscopy. We are also looking forward to the completion of the Stockton "Quad" project with two new buildings which, along with the USC and Campus Center, will anchor a beautifully landscaped central campus Quadrangle. The first building is a 58,000-square-foot Unified Science Center expansion (USC2), funded largely by New Jersey's "Building Our Future Bond Act." The facility will house additional Biology, Chemistry and Marine Science teaching and research laboratories, new teaching and research laboratories for Physics and pre-Engineering as well as a greenhouse and a vivarium, and a Gross Anatomy laboratory for the School of Health Sciences. Dedicated laboratories for Sustainability Science will be housed in a companion building across the central quad which is also under construction. The completion of the "Quad" projects is slated for late fall 2017.
Programs in Environmental Science and Geology, including laboratories for Geographic Information Systems (GIS), dendrology, entomology, soil science, magnetism and mineralogy are housed in the Arts & Sciences building. The eight-acre Marine Science Field Station and the University's Coastal Research Center are located on Nacote Creek off the Mullica River in Port Republic. The Field Station houses classrooms, labs for teaching and research, as well as support facilities including aquaria, tanks and a seawater system. In addition, the university operates six research vessels for near-shore and estuarine research that can be equipped with an underwater remote operating vehicle (ROV), side scan and multi-beam sonar and other cutting-edge equipment. The university's newest addition is the 36-ft. research vessel, RV Petrel, which joined the fleet this summer. Stockton's Coastal Research Center, based at the Marine Field Station, studies New Jersey's coastal areas and is supported by over $1.5 million in grants and contracts.
STOCKTON UNIVERSITY
School of Natural Sciences and Mathematics, Dean Peter Straub, USC 241
101 Vera King Farris Drive, Galloway, NJ 08205-9441
609.652.4546 • 609.626.5515 (fax)
Website: stockton.edu/nams • E-mail: peter.straub@stockton.edu or nams@stockton.edu