School of Social and Behavioral Sciences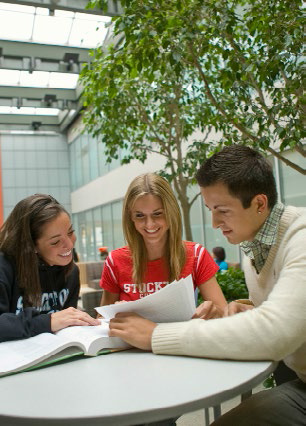 Degree Programs: Undergraduate degrees are offered in Criminal Justice (CRIM), Economics (ECON), Political Science (POLS), Psychology (PSYC), Social Work (SOWK) and Sociology and Anthropology (SOAN). Interdisciplinary minors are offered in Behavioral Neuroscience, Childhood Studies, Gerontology, and new in Fall 2016, Victimology and Victim Services. At the graduate level, two degrees are offered: a Master of Social Work (MSW) with an elective specialization in leadership and management and a Master of Arts in Criminal Justice (MACJ) with tracks in Forensic Psychology, Homeland Security, Justice Studies, and also new in Fall 2016, Administration and Leadership. Both programs are accredited and offer accelerated options for undergraduates. Students with a Bachelor's degree in Social Work have earned Advanced Standing and may complete the MSW in one year rather than two. The Dual Degree program in Criminal Justice allows students to earn a B.A. and an M.A. degree in five years.
Dean's Notes:Stockton CSI is a residential summer camp for high school students who want hands-on experience with criminal investigation, from crime scene to courtroom. Led by Stockton faculty and graduate students, Stockton CSI has received national media attention and has attracted campers from across the nation.
The Stockton Center on Successful Aging (SCOSA) promotes education, research and services to respond to local, regional and statewide needs related to aging. SCOSA offers workshops, tours, lectures and other programs designed specifically for older adults.
Since the mid-1970s, more than 1,000 Stockton students have completed the Washington Internship Program through Stockton's
affiliation with the Washington Center, the nation's largest internship organization.
Stockton's Baccalaureate Child Welfare Education Program (BCWEP) has been recognized by the New Jersey Department of
Children and Families for its success in bringing undergraduate students into caseworker positions in the Division of Child Protection
and Permanency (DCP&P, formerly known as DYFS, Division of Youth and Family Services). To date, over 400 of these graduates have
moved into careers as social workers with DCP&P. Because of its statewide success, Stockton was invited to expand the program to
include the Masters Child Welfare Education Program (MCWEP). The intent of MCWEP is to provide an opportunity for casework
supervisors and other DCP&P supervisors to earn the advanced degree part-time at Stockton, Kean University, Monmouth University
or Rutgers University. Since its inception, 93 students have enrolled and 32 have completed the program. As a result of these two
programs, the Child Welfare Education Institute (CWEI) was created to place both Baccalaureate Child Welfare Education Program
and the Masters Child Welfare Education Program under one umbrella. With the creation of CWEI came the addition of the New Jersey
Child Welfare Training Partnership, Southern Region (NJCWTP-SR), which is responsible for providing continuing education training
to approximately 2,200 DCP&P employees across 11 southern counties of the state. The NJCWTP delivers approximately 325 trainings
annually as well as develops timely and relevant training curricula for DCP&P.
STOCKTON UNIVERSITY
School of Social and Behavioral Sciences, Dean Cheryl R. Kaus, H-201
101 Vera King Farris Drive
Galloway, NJ 08205-9441
609.652.4512 • 609.626.5559 (fax)
Website: stockton.edu/sobl
E-mail: sobl@stockton.edu