Faculty Handbook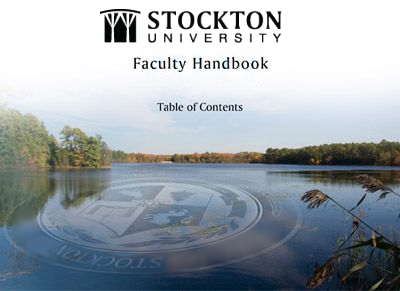 Dear Faculty,
Welcome to the Faculty Handbook webpage. The Handbook is designed to provide institutional, personnel and academic information to all full-time, part-time, and adjunct faculty. The Handbook is also meant to serve you by providing important information in support of your academic and scholarly endeavors. The Handbook can help acclimate newer faculty to university governance, primary academic support services, and the faculty personnel cycle. The index to the left serves as the table of contents. Web pages are regularly updated, so please browse the Handbook often so that you keep up to date on changes at the University that impact your faculty role. Thank you for being part of the Stockton University community and for your contributions to Stockton's distinctive education!
Please contact Carra Hood, Associate Provost, at carra.hood@stockton.edu with any questions or comments about the Faculty Handbook.
Best Regards,
Lori Vermeulen
Provost and Vice President for Academic Affairs
An updated version of the Faculty Handbook is in progress and should be posted by the end of the fall semester 2019. Please check back.