Behavioral Neuroscience Minor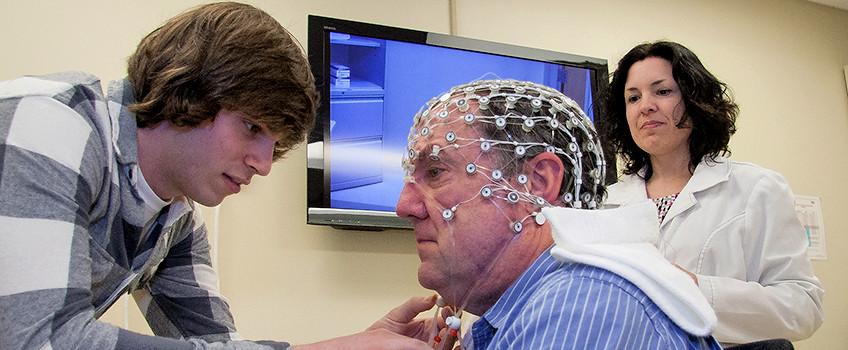 Neuroscience is the study of brain anatomy and physiology, as well as the relationship between the brain and overt behavior, cognitive processes, and emotional experiences, among others. Behavioral neuroscience is a subdiscipline within the general field and is directed toward understanding the neural components that support human behavior, both normal and abnormal.
Neuroscience generally focuses on the study of the nervous system, whereas behavioral neuroscience is concerned with how neural components result in behavior.
The minor provides an opportunity for the in-depth exploration of the field of behavioral neuroscience to better prepare students for future study and careers in the natural and social sciences. Although advanced knowledge of the structure and function of the brain would augment the coursework in many majors (e.g., speech pathology and audiology, nursing, criminal justice, and biology), it is not always possible to offer sufficient coursework within any of these majors to provide the level of training that a minor in behavioral neuroscience could provide. Thus, students with similar interests from various disciplines can collaborate on projects, broaden their perspectives, and increase their knowledge in this growing field, opening doors to careers that students would have otherwise not known about nor have been qualified to pursue.
---
Program Coordinator:
Mark Berg, Ph.D.
Associate Professor of Psychology
609-626-6862
G266
mark.berg@stockton.edu
---
Curriculum Worksheets
---
Program Overview & Curriculum
---
Students will be required to complete 24 credit hours, divided into three levels of study: basic principles, advanced topics and electives. This flexibility reflects the dynamic nature of the behavioral neuroscience field.

Central to the minor are basic principles and advanced topics. The courses covering basic principles are intended to provide students with a foundation in cellular and systems components of the brain. Introductory courses in related fields (i.e., biology and psychology) are required to enhance students' understanding of behavioral neuroscience concepts. The advanced topics requirement is intended to foster additional student-faculty research and to give students an opportunity to apply the basic principles through the analysis of existing research in behavioral neuroscience and the participation in research in this exciting area. Research and practicum experiences offered by other programs (e.g., CMDS, BIOL, CRIM) can be counted toward advanced topics provided the content has a neuroscience emphasis, contingent on receiving prior approval from the BHNS coordinator. Electives are the third area of study and allow students to make the minor specific to their goals and interests. Students can merge knowledge accumulated in their disciplines with knowledge from completed behavioral neuroscience courses.
Foundations
Foundation credits do not count toward the credit total for the minor but must be completed for the minor to be awarded.
a. PSYC 1100 Introduction to Psychology
b. BIOL 1200/1205 Cells and Molecules/Cells and Molecules Lab
These courses serve as prerequisites for many of the courses below.
Required Coursework (24 credits)
Basic Principles (8 credits):
Systems Core:
PSYC 3331 Physiological Psychology
OR
GSS 3114 The Dynamic Brain
Cellular Core:
PSYC 3300 Neurons and Networks
OR
BIOL 3360 Neurobiology
Advanced Topics (8 credits):
Choose two:
CSIS 3800/4800 Special Project in Computer Science/Information Systems
PSYC 3355 Clinical Neuropsychology
PSYC 3634 Seminar in Neuroscience
PSYC 3636 Human Memory
PSYC 3648 The Criminal Brain
PSYC 3708 Research in Applied Neuroscience
PSYC 3718 Research in Neuroscience
PSYC 3900 Field Placement in Psychology**
PSYC 4805 Special Project in Cognitive Neuroscience/Neuropsychology
PSYC 4825 Project for Program Distinction**
PSYC 4895 PSYC: SIRE Project**
Electives * (8 credits)
Choose two:
BIOL 2150 Principles of Physiology
BIOL/PHYS 3030 Biomedical Physics
BIOL 3110 Animal Behavior
CSIS 4463 Artificial Intelligence
CSIS 4510 Topics in Computer Science
GIS 3633 States of Consciousness
GIS 4614 Human Behavioral Genetics
GIS 4644 Mindfulness, Self, and Reality
GNM 2209 Intelligent Machines/Human Beings
GNM 2216 Medical Technology
GNM 2248 Artificial Intelligence in Society
GNM 3105 Psychopharmacology
GSS 2351 Herbal Psychopharmacology
PSYC 2215 Cognitive Psychology
PSYC 2700 Neuroscience Research Practicum
PSYC 3332 Perception
CMDS 3123 Introduction to Language Disorders
*Additional Advanced Topics courses may be used as electives.
**Must have a neuroscience emphasis and prior approval from the minor coordinator.
Completing a minor in Behavioral Neuroscience should increase one's success in applying to graduate programs in medicine, neuroscience programs, as well as programs in biology, clinical neuropsychology, forensic psychology, criminal justice, law, physical therapy, and occupational therapy, among others. Specialized training in the brain would also be an asset for students entering into or completing professional programs, such as nursing and speech audiology and pathology, in which an advanced understanding of the brain's structure and function would assist students in applying interventions aimed at rehabilitation.
In addition, training in neuroscience will help prepare students to work in applied laboratory settings that utilize neuroscience techniques and related approaches. Because neuroscience has become an integral component of many fields, the minor will serve as a complement to many undergraduate programs that prepare students to enter directly into service and applied professions, such as education, social work, and law enforcement.